Polar Vantage M2
The Polar Vantage M2 multisport GPS watch is a great combination of performance, functionality, and athlete attitude. It offers you the guidance and data to help you get stronger and essential smartwatch features to keep you connected. Polar Vantage M2 is your all-in-one companion on your way towards new PR's.
YOUR COMPLETE PACKAGE
Let the athlete in you shine with the wide range of features on offer in the Polar Vantage M2. Visualize your body's performance and find the personalized guidance you need to consistently keep reaching your goals – today, tomorrow, we're with you all the way.
TRAINING AND RECOVERY MADE SIMPLE
Train smarter, not harder – improve your performance in real-time with insights about your current condition and readiness. Polar Vantage M2 automatically tracks your sleep and recovery so you know when you can safely push your body further.
STAY SMART, FEEL SPORTY
Precision and accuracy are critical to tracking progress. Let the advanced technology in Polar Vantage M2 do the work while you focus on crushing your goals. Smartwatch features like music controls, weather and push notifications make sure you'll never miss a beat.
DESIGNED FOR THAT ATHLETE ATTITUDE
ATHLETE'S ESSENTIALS – WITH PRO-LEVEL ACCURACY
Wrist-based heart rate & GPS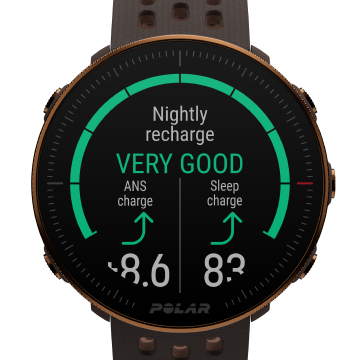 REST SMART, PLAY HARD
Recovery & sleep tracking with Nightly Recharge™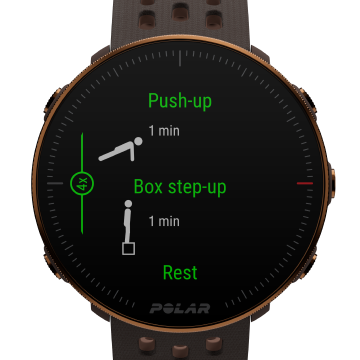 PERSONALIZED WORKOUTS
FitSpark™ Daily Training Guide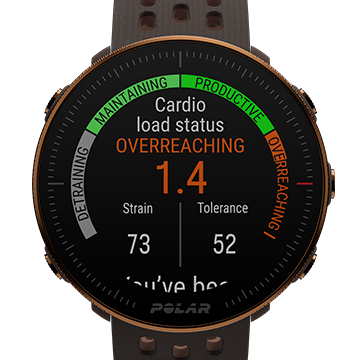 KEEP YOUR LOAD IN CONTROL
Training Load Pro™
RUN TOWARDS A GOAL
Polar Running Program
VOLUME UP. FOCUS ON.
Music Controls
PREPARE FOR THE ELEMENTS
Weather forecast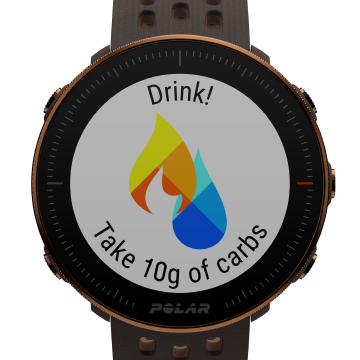 FUEL UP WISELY FOR THAT EXTRA LONG SESSION
FuelWise™ smart fueling assistant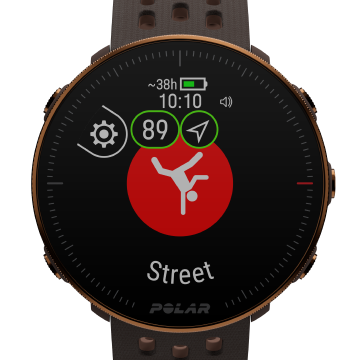 130+ SPORTS SUPPORTED
Measurements
46 x 46 x 12.5 mm
Weight
45.5 g with wristband, 28.5 g without wristband
Materials
Glass fiber reinforced polymer case. STAINLESS STEEL bezel, buttons and buckle.
Display
Always on color display. Hard-coated PMMA laminated lens. Size 1.2", resolution 240 x 240.
Battery
230 mAh Li-pol battery. Battery life up to 40 h in training mode (GPS and wrist-based heart rate) or up to 7 days in watch mode with continuous heart rate tracking. Multiple power save options available.
GPS
Integrated GPS & GLONASS. Assisted GPS for fast fix times.
Connectivity
Bluetooth Low Energy. Custom USB cable for charging and data synchronization.
Watch
Time & date. Alarm with snooze.
UI languages
English, German, French, Italian, Dutch, Norwegian, Spanish, Portuguese, Swedish, Finnish, Danish, Polish, Russian, Turkish, Indonesian, Czech, Japanese, Chinese (simplified)
Sensors
Compatible with all standard BLE heart rate sensors, running cadence and power sensors, as well as cycling speed, cadence, and power sensors.
Water resistance
Water-Resistant (WR30)
Wristbands
Sizing:
S-L, wrist circumference 130-210 mm
Two wristband size options included in the package.
Material: Silicone, STAINLESS STEEL buckle.